The following stories profile formerly homeless clients of The People Concern, who inspire us all with their messages of hope as they have rebuilt their lives.
We are proud that FlyawayHomes will be creating homes for many more individuals to find their journey out of homelessness. Please click the '+' symbol below to read our client's stories.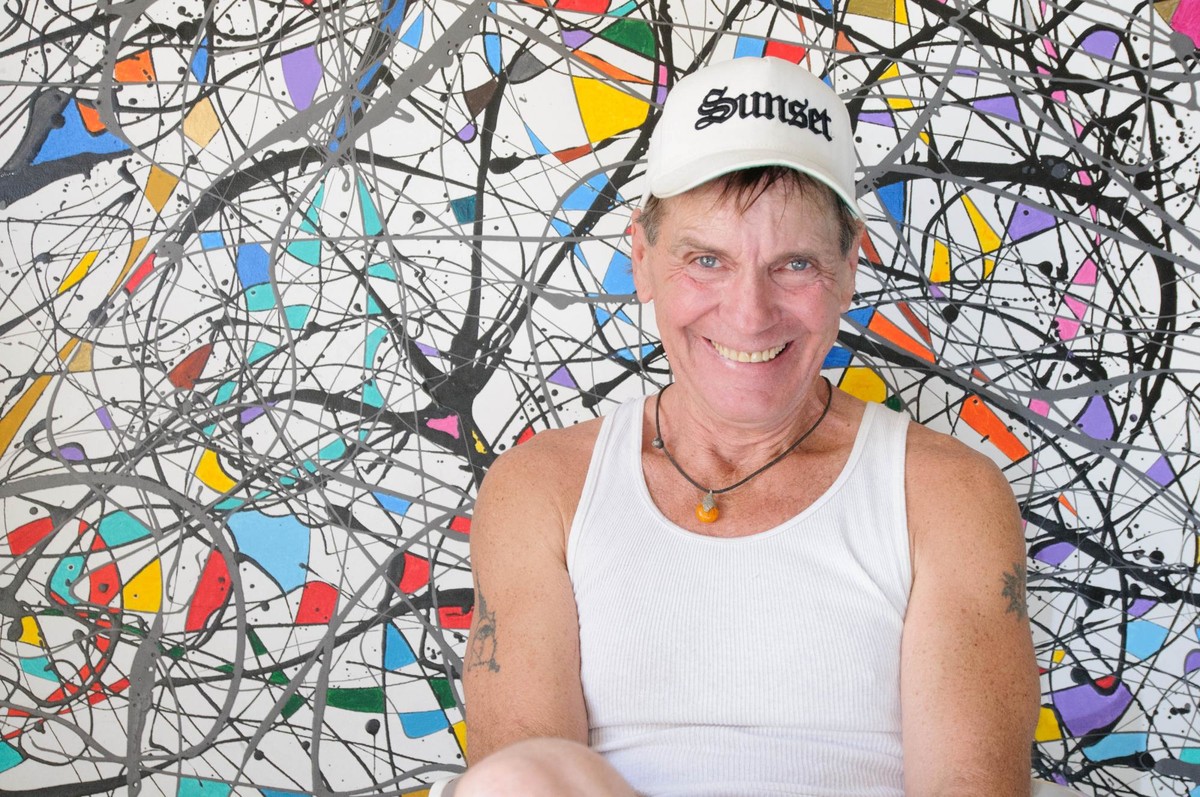 On a quiet Friday afternoon, Keith Salas sits peacefully in his quaint mid-city studio. Wearing a hat with the word "Sunset" scrolled across the crown, you immediately get the sense that he's at peace with his surroundings.
Just about every inch of his space is immersed in artistic expression. A canvas covered in strikingly contrasting lines – a product of his bold imagination – hangs above his bed. Another piece, comprised of a salvaged wooden chair protruding from the canvas, is mounted on the open wall space near his front door. Put simply, Keith has found a home. A safe space where he and his art can flourish with help from the dedicated staff at The People Concern. Prior to establishing a relationship with The People Concern, Keith's life was marked by depression and bouts of persistent drug addiction. He struggled to maintain steady employment and eventually spent a decade living on the streets of LA.
He connected with the agency through the Annenberg Access Center and began working with case manager, Erica Tobin, to chart a viable path toward permanent housing. They developed a plan and eventually launched the search for permanent housing. Once they were able to pinpoint a space, The People Concern provided the security deposit and new stove for the unit.
"Keith is very proactive and resourceful," said Erica Tobin, Keith's case manager. "We worked as a team to get him housed and he is very driven. "Keith has been sober for the past two years. His days are now spent finding inspirations for his art, a gift he inherited from his mother. He transforms discarded objects and furniture into frames or objects for his paintings. It's been quite the journey for Keith – traversing the winding path to permanent, stable housing. But it's a journey that has been well worth every step. "It's been the best year of my life because I got my place, started painting, and got out of my depression," Keith said. "My whole life has totally changed."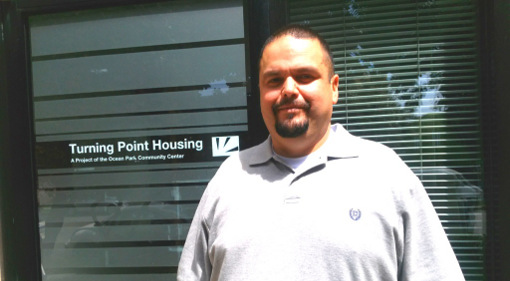 Juan became homeless when his father passed away. Juan's father had been the rock for him and his sister. Without his father, Juan did not know what to do or how to provide for his sister, who is chronically mentally ill. Juan fell into a deep depression and life did not matter to him anymore. For several years he struggled with substance addiction; self-medicating to forget about the loss of his father.
Everything changed when he started seeing a mental health specialist who referred him to Turning Point at The People Concern.
With the help of Turning Point's staff, Juan began rebuilding his life. He started working again and saving money with the guidance of money management classes. He met regularly with his mental health clinician and participated in an addiction recovery group. During his darkest days, he had lost touch with his sister, but since beginning his work with Turning Point, he has reconnected with her.
We are proud to report that Juan has achieved another significant milestone: he is now living in his own one- bedroom apartment in Los Angeles. Juan says he plans on staying employed and housed and looking at life with optimism. His landlord supports his current stability and says that people deserve a second chance to turn their lives around. Juan is thankful for having The People Concern in his life and feels very fortunate having met people who value him for the changed man he has become.
Michelle became homeless when she lost her job due to a medical condition. She had been diagnosed with acute sepsis. Michelle has always been a hard-working, independent woman and it frustrated her to be unable to work. She worried about her safety at night and now, due to her health condition, had to navigate the streets in a wheelchair.
Michelle's health deteriorated and she was hospitalized. She was discharged from the hospital to The People Concern's Respite Care Program and began her recovery. From there, she spent some time in interim housing at Turning Point. Through the support of The People Concern staff, Michelle began to regain her confidence and found the strong woman within herself she'd feared was lost. She started seeing a mental health clinician and participating in money management classes.
This year, Michelle ended her homelessness. Michelle is walking again and preparing for knee and hip replacement surgery. Since volunteering in the kitchens at The People Concern as a resident, Michelle developed a taste for culinary work. She is hoping to attend culinary school and one day work in a fine restaurant. Good luck, Michelle!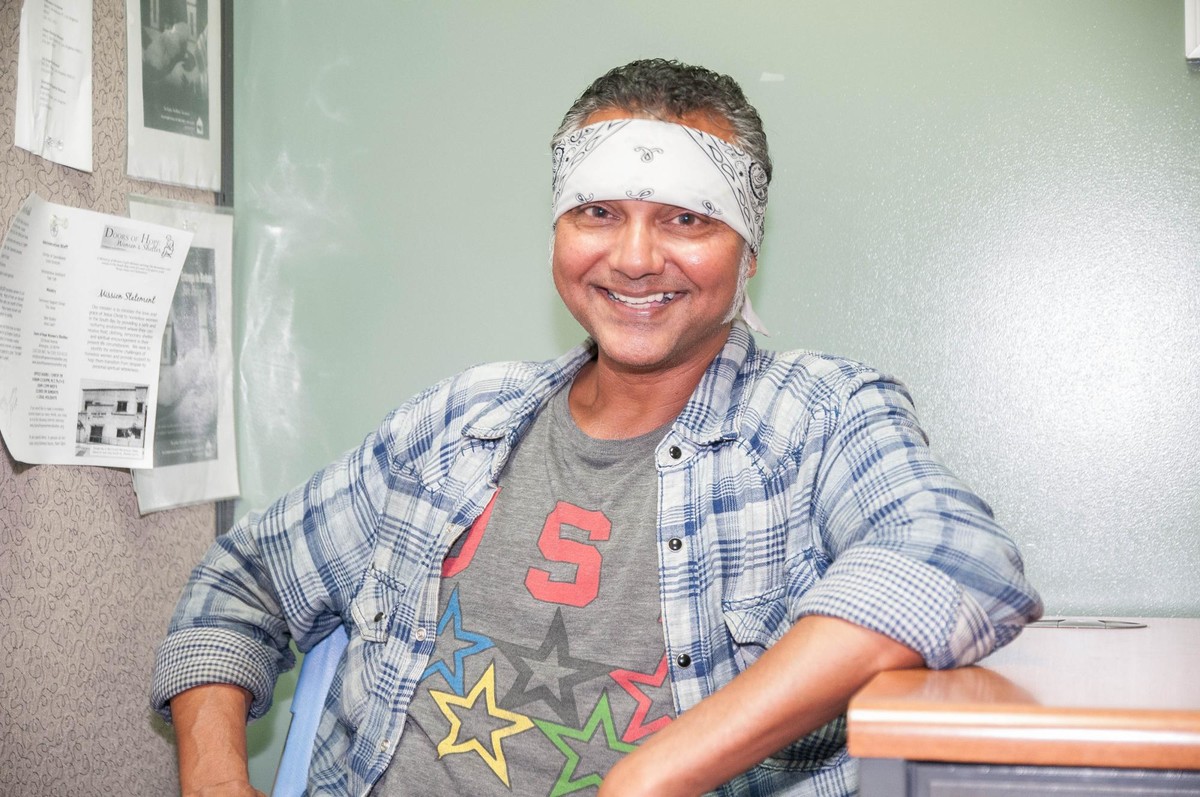 Simon Dsouza isn't afraid to speak his mind – especially on issues of homelessness. In fact, he's quick to offer an alternative descriptor for individuals that find themselves living on the streets of LA.
 "They say home is where the heart is," Dsouza said. "I have a heart so how can I be homeless? I prefer the term unhoused."
Dsouza is well on his way to dropping both descriptors. He successfully secured a housing voucher with help from The People Concern. And now, he and Care Coordinator, Jessie Ramos, are actively searching for available units.
Dsouza has been unhoused for the past five years – resulting from medical issues that left him unable to maintain employment. Dsouza has been unhoused for the past five years – resulting from medical issues that left him unable to maintain employment. He connected with the agency and began receiving services at the Access Center in Santa Monica.
Jesse connected him with an agency clinician – a resource that allows him to openly examine his feelings in a safe space. He was also able to secure a state driver's license, a significant personal milestone.
Dsouza adamantly praises The People Concern for its commitment to serving individuals struggling to find stable housing. In his view, it serves as a beacon of hope for individuals in need. "The People Concern is very, very important," he said. "Without them, there would be a lot of people that would be lost in so many ways. [The agency] is a huge stepping stone moving forward toward something. Without it, you're stagnant."
Simon is a perfect candidate for PSH – by investing in PSH Colden, you can help his dream of being housed a reality!